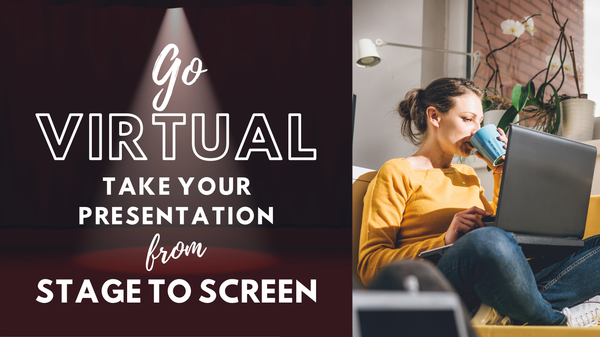 You already have the content. You already deliver live presentations. You know your stuff.
But virtual presenting is not the same as being in the same room as your audience.
How do you teach, engage and interact with an audience you can't see, can't hear, and can't read?
It's not as hard as you think!
Whether you've decided on the ✊🏽,🖖🏼, or 👋🏻 as your new greeting in place of 🤝🏼, one thing we can all agree on: meetings and conferences have shifted practically overnight.
How adaptable are you?

Are you able to deliver your presentations from anywhere?

Are you comfortable with and skilled at delivering online via videoconferencing software?

What will you do if asked to turn your live presentation into a virtual workshop?
If you're like most of my friends, colleagues and clients, you'll say "yes," and figure it out later!
Sometimes life just gives us the kick in the butt we need to try something new. When we're comfortable and there's no need to change, it's pretty easy to sit back and keep doing what we've been doing.
But that's just not possible right now, if you still want to get your message out to the world, that is.